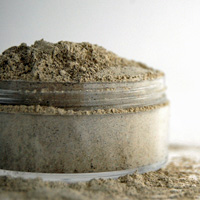 A two-ingredient DIY clay mask to draw out impurities from the skin.
Get your game face on with this simple, detoxifying facial mask. Clay can soak up the yuck like nothing else. As it dries, French green clay is highly efficient at drawing oils and toxins from the skin. It's also rich in minerals and phytonutrients. And the beauty of buying it in raw, powder form is that it lasts forever because you only mix up enough for one use.
Great for guy's skin, too!
Here's what you need:
2 tablespoons French green clay
2 drops of tea tree essential oil
Here's what you do:
Wet the clay with a few drops of warm, distilled water. When thick and creamy, mix in the oil. Apply to clean skin and allow to dry about 20 minutes. Rinse thoroughly and follow with a moisturizer. Tip: To soften skin, use lavender essential oil instead.