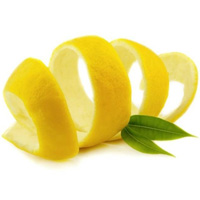 An energizing home spa bath.
Dust away those cobwebs and beckon in spring with this refreshing, energizing bath! The fresh lemon peel gives you a kick of energy and lifts dead skin cells, the fragrant orange peel will dust away depression and anxiety, the parsley stimulates circulation and the comfrey acts as a mild antiseptic.
Crank up your favorite tunes, close your eyes and let this soak take you away!
Here's what you need:
2 muslin pouches
1/4 cup grated lemon peel
1/4 cup grated orange peel
1 tablespoon dried parsley
1 tablespoon dried comfrey
Here's what you do:
Make your own herbal tea bags by combining ingredients in muslin pouches. If you can't find muslin pouches at your local craft store, cut cheese cloth into large squares and tie the mixture up securely with a string. Toss bags into warm bath water. Soak and think happy thoughts!