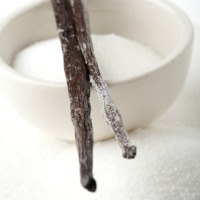 A good-enough-to-eat home spa sugar foot scrub.
Michelle Vandeburg, owner of Polished Nail Spa in Scottsdale, has a secret weapon to lull her clients into blissful submission. Her fresh-made DIY sugar foot scrub! And after much coaxing, she was generous enough to share her secret recipe. Super simple, super sweet and yummy enough to eat, use this scrub between pedi appointments to keep feet polished and pretty! (Thanks Michelle!)
Here's what you need:
1 tablespoon honey
1 teaspoon sugar
Splash of vanilla extract
Here's what you do:
Blend the ingredients in a small bowl, adjusting amounts to your liking. Massage the sweet mixture onto clean, dry skin paying attention to heels and rough spots. Rinse and massage feet with your favorite foot lotion. Now don't you feel better?